AUTOPILOT for Yachts and Workboats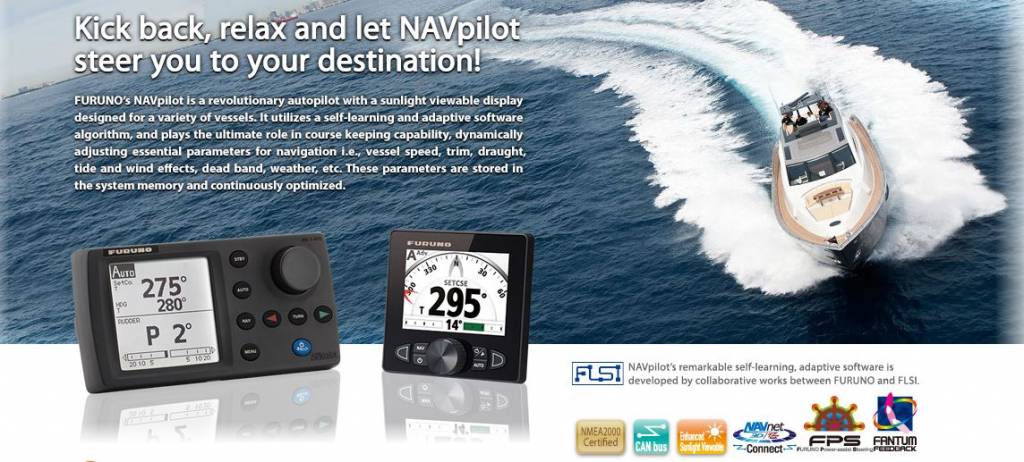 Autopilot
Water sports is a combination between exertion and relaxation, whereby certain tools can be used to achieve even more relaxation. An autopilot is such an aid and can ensure that you can enjoy the beauty of your surroundings even more. With an autopilot, you will have to take less initiative yourself to be able to continue the correct course. Do you want more effort? Then, of course, you can also easily switch off the autopilot, so that you can maintain control yourself and adapt your speed to your own wishes at the time.
Choosing a suitable autopilot
An autopilot can be purchased in many different price categories and with a great diversity of quality. This makes it difficult to choose the right autopilot, but it ensures that there is always an autopilot available that meets your needs. In our webshop we have already limited the choices for you, because we have selected the products of FURUNO on a good relationship between price and quality. So you always buy an autopilot with us, from which the quality corresponds to the price you pay for it.
Of course not only the end product is important, but we also find it important how the autopilot is made. In our product range, we have not only looked at the reliability and safety of the autopilot, but also look at the durability of the materials, the social commitment of the brands and the way in which the company treats with the environment. You choose an autopilot in our webshop that does not only do what it promises, but also has been developed in the right way.
Purchase your autopilot at Sail360
We understand at Sail360 that it is a big expense when you buy an FURUNO autopilot and that you sometimes want more support. We do not only have a wide range of water sports materials, pumps for the autopilot and compasses but also communication equipment, sailing clothing, Scanstrut housings for radar installations and more, but we also provide the right service. In this way every customer who orders our autopilot or other product from us will receive a two-year warranty on the products, you can return the products to us within 14 days if they do not meet the expectations and you can easily contact us for all your questions. about the autopilot or other products. Because we are also very active in maritime navigation, you will always purchase an autopilot or other product with us that we fully support.
Want to know more about our products?
Would you like to have more information about the products from our webshop, do you want help in choosing the right autopilot that meets your needs, or do you want to know more about the working method of Sail360? Please contact us. Our experts will gladly tell you more about the autopilot of your choice or other products from our webshop when you mail your question to info@sail360.nl Of course we are also happy to speak to you personally when you call 0031-252-544772. We hope to help you quickly in finding the autopilot that meets all your expectations.