NAVnet Digital Radar Antennas, FURUNOs Ultra High definitie radar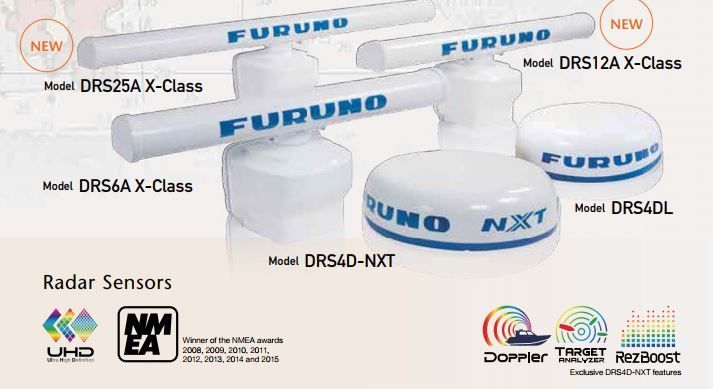 Furu
t Digital Radar
o NAVnet Digital RadarVnet Digital Radar
nNAVnet Digital Radar
Furuno NAVnet Digital Radar
FURUNO NAVnet Digital Radar mit Ultra High Definition Informationen wird digitalisiert und die Radareinheit (sowie andere "Sensoren" und Fischfinder) können einfach in das NAVNET Navigationssystem integriert werden.
Funktionen:
NAVnet Digital Radar digitale Datenverarbeitung optimiert die Zielerkennung auf kurze und auf lange Distanzen.
Optimales Bild: Die Breite des Radarstrahls kann digital angepasst werden
Darstellung zweier Radarbilder in Echtzeit mit unterschiedlicher Bereich und voneinander unabhängiger/automatischer Rauschentstörung**
48 rpm Rotations-Geschwindigkeit für kurze Distanzen & Flussfahrten
Drehgeschwindigkeit passt sich auomtatisch der Pulslänge an
NAVnet Digital radar hat punktgenaues Radar-Overlay sowohl in 2D als auch in 3D Darstellung*
Der eingebaute ARPA-Prozessor kann gleichzeitig bis zu 30 Ziele erfassen und verfolgen*/**
AIS-Overlay "AIS-über-Radar" Funktion*
Die True-Colour Funktion gestattet eine Unterscheidung der Dichte des Radar-Ziels und wird bis zu 32 Farben angezeigt.
Eine Radar Warnzone oder ein genereller Wachalarm benachrichtigen Sie bei potentiellen Gefahren.
Das UHD™ Digital Radar kann einfach mehr
Mit zwei VRM (Reichweitenring zur Bestimmung der Entfernung) und zwei EBL (Peillinie zum Ziel) können Sie Ziele in der Umgebung überwachen.
Ein in der Antenne eingebauter CAN Bus Anschluss ermöglicht die direkte Einspeisung externer Daten
* Zugriff auf entsprechende Sensoren empfohlen
** Nicht möglich mit DRS4DL
NAVnet Digital Radar Preisgekrönte Technology ist mit:
NAVnet Digital Radar ist TOP Sehe hier mehr.
Brochure Ultra High Definition (UHD™) Digital Radar
FURUNO has taken its NMEA award-winning radar technology to the next level with Ultra High Definition Digital Radar. UHD™ offers crystal clear target presentation with automatic real-time digital signal processing. The antenna rotation speed (24/36/48 rpm) is automatically shifted according to the pulse length needed for optimal performance. Commercial-grade radar performance is now available in the ultimate MFD navigation suite.
Target Analyzer™ function utilizing Doppler technology spots hazardous targets instantly!

Hazardous targets are displayed in bright red
The DRS4D-NXT and the DRS6A-NXT are the first Radars in the world to use FURUNO's exclusive Target Analyzer™ function. Targets that are approaching your vessel automatically change color to help you identify potentially dangerous targets. Green echoes are targets that stay stationary, or are moving away from you, while red echoes are hazardous targets that are moving towards your vessel. Echoes dynamically change colors as targets approach, or get farther away from your vessel. Target Analyzer™ improves situational awareness and can increase safety by showing you which targets to look out for.
* DRS6A-NXT compatibility Software Version, 5.0.1 or later
* DRS4D-NXT compatibility Software Version, 3.0.1 or later
X-Treme Radar Performance


X-Class series a whole new class of Radar

The radar detects and distinguishes several small yatchs with high accuracy.
Pushing the boundaries of what is possible with conventional Radar technology, X-Class series mark yet another leap forward for FURUNO. Improved in almost all aspects, X-Class Radar features improved short range detection as well as an impressive long range detection of up to 96 nautical miles. And that's not all, the new "Bird Mode" gives you incredible bird detection performance.
*1 TZtouch2 software version v3.01 or later.
*2 Bird mode is also available with DRS-NXT Series.
Bird Mode*

Bird mode and navigation mode can both be displayed via a simultaneous dual mode scanning. Possibility to track the birds while navigating safely
Echo Trail/Echo Average
Echo Trail and Echo Average features have been added to the latest version of NavNet TZtouch2 series. Using the new functions, Bird mode detects and accurately tracks birds, providing a clear view of the target by reducing noise. Echo Trail enhances and amplifies the Target Analyzer and doppler technology to help prevent hazardous situation and gives an intuitive understanding of nearby vessel's movements.

True Echo Trail

Bird mode with Echo Average
Radar-Chart Overlay
A Radar image of spot-on accuracy can be overlaid onto the chart screen on your NavNet TZtouch2. It's not just available in the conventional 2D chart format, but it can also be projected onto a 3D chart presentation. Depending on the range scale selected, the Radar-Chart Overlay adjusts accordingly. This allows you to view the Radar-Chart Overlay at whatever magnification level you find comfortable.
ARPA Target Tracking
With ARPA Target Tracking enabled, up to 30 different targets can be tracked simultaneously. Targets can be acquired either manually or fully automatically. Automatic Radar Plotting Aid (ARPA) calculates the tracked objects course and speed, as well as the CPA (Closest Point of Approach). With this information, the Radar is capable of predicting possible collision courses and sound relevant alarms. In combination with AIS, this spells increased security and ease of mind on your vessel.
Not available on DRS4DL
Real-Time Digital Auto Gain/Sea Controls

2D Raster 2D Vector
NavNet TZtouch2 employs revolutionary real-time digital auto Gain/Sea controls to deliver a crystal clear radar presentation. With this new technology, NavNet TZtouch2 computes and applies an adaptive omni-directional anti-clutter filter with variable intensity according to vessel bearing. With the use of this technology, automatic gain and sea clutter have achieved such a high level of proficiency that one rarely needs to venture into the manual modes. Set the Radar to auto and focus on more important things at hand.
Simultaneous Dual Range Radar Scanning
Simultaneous scanning technology sends out a dual progressive scan that is processed and presented on the NavNet TZtouch2. This technology allows for two different radar ranges to be displayed simultaneously, each range with autonomous control over gain and anti-clutter settings. One of the many things that can be done with dual range scanning is, for example, to set one range for bird detection and the other for navigation.
Not available on DRS4DL
AIS Target Tracking
When connecting a FURUNO FA-30/50/170 AIS unit to your NavNet Series devices, up to 100 AIS targets can be tracked and displayed on the Radar screen. The Automatic Identification System (AIS) improves safety during travel by sharing the status and position of your vessel with other AIS-equipped vessels nearby. You can easily read detailed information about AIS-equipped vessels nearby such as speed, heading and more.
NavNet TZtouch2 Radar Sensor Options
DRS4DL+

NEW

DRS4D-NXT
DRS6A-NXT

NEW

DRS6A X-Class
DRS12A X-Class
DRS25A X-Class
Output Power
4 kW
25 W
25 W
6 kW
12 kW
25 kW
Size
19 inch
24 inch
3.5 ft/4 ft/6 ft
3.5 ft/4 ft/6 ft
4 ft/6 ft
4 ft/6 ft
Antenna Type
Radome
Radome
Open
Open
Open
Open
Beam Width
Horizontal
5.2°
3.9°
2.3°/1.9°/1.35°
2.3°/1.9°/1.35°
1.9°/1.35°
1.9°/1.35°
Vertical
25°
25°
22°
22°/22°/22°
22°/22°
22°/22°
Max. Range
36 NM
36 NM
72 NM
96 NM
96 NM
96 NM
48 rpm Capability
—

•

•

•

•

•

Functions
Head-up, North-up*, True Echo Trail, TT, AIS
Head-up, North-up*, Target Analyzer, Bird mode, True Echo Trail, Bird mode, TT, AIS
Head-up, North-up*, True Echo Trail, Bird mode, TT, AIS
Dual Range Scanning
—

•
(Range is limited to 12 NM)

•

(Range is limited to 12 NM)

•

•

•

MFD version required
5.01
3.01
5.01
3.01
4.01
4.01
* Heading input required.
The NAVNET Digital radar antenna complies with IEC62252 Ed. 1:2004 (Clauses 4.33, 5,33, Annex D) relevant to radio characteristic.