CHARTPLOTTER WITH FISHFINDER GPS AND MORE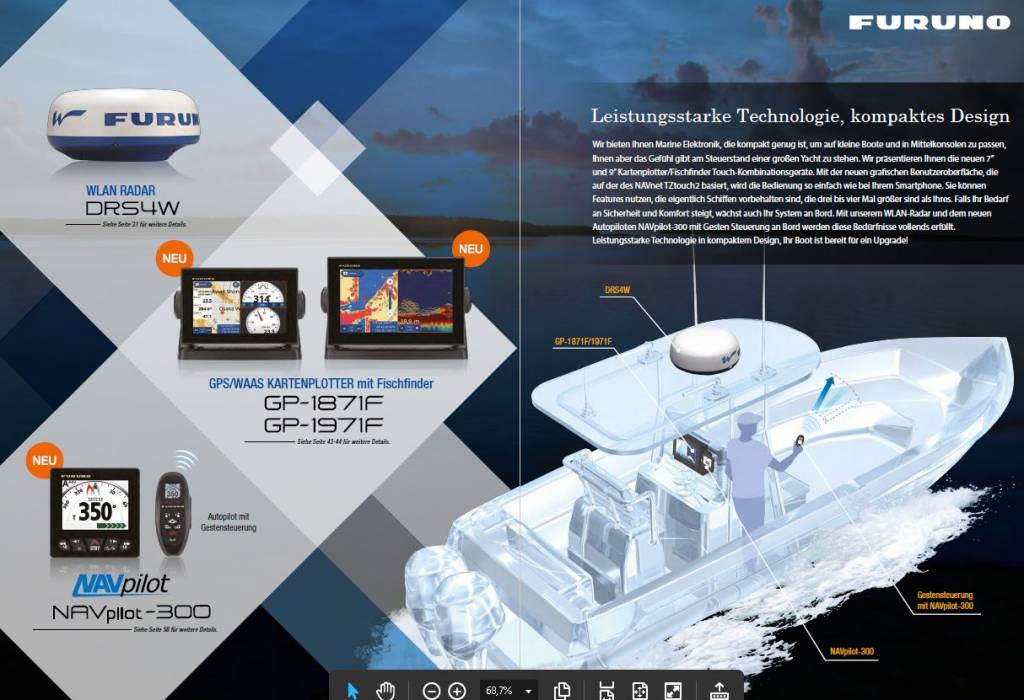 Safe and secure navigation on the water is always a challenge. A chartplotter can support you in this, so that you can gain more certainty about the route and make your route safer. Are you looking for a suitable chartplotter for your vessel? Then you will find it easily in our webshop. Thanks to our own experiences with water sports, you will find with us the chartplotter that we ourselves fully support, so you are assured of a good product. We supply the chartplotter or the other maritime navigation products that we offer on our website in Europe with the necessary service and support.
What can a chart plotter mean for you?
A good chart plotter has advantages over other ways of navigating, such as a laptop or a card. First, a chartplotter is waterproof. This is practical when you use the chart plotter in an open vessel. Furthermore, the chart plotter is very readable in the sunlight and they are also available with Multi touch display to which you can add radar, network fishfinder AIS and many more senors. Of course the choice of a correct chart plotter is difficult because there are various prices and qualities available. The resolution of the screen is, for example, important here. A high resolution means a sharper image, but also a higher price. In short these are considerations that every water sports enthusiast has to make for himself.
At Sail360 we have included various types of quality plotters from FURUNO in our assortment. We think it is important that the price and quality and possibilities are in good proportion to each other, but also that every water sports enthusiast must be able to make his own choices. That is why we have products in different price categories, so that there is always a chartplotter that suits your needs.
The advantages of Sail360
In addition to the relationship between price and quality, we also consider it important to take into account the way in which the products are developed. At Sail360 we find it important that not only now, but also in the future can be enjoyed all the beauty that water sports can bring. We therefore find environmentally friendly working methods and social engagement important when we include brands in our assortment, whether it is a chartplotter or sailing clothing. Within our webshop you will only find A brands, such as Furuno and Scanstrut, but also more brands that meet this friendly production method.
We select products and brands not only from theoretical knowledge, but also from our own experience in maritime navigation. When you purchase a chartplotter or other product from us, you can be assured that we stand behind this product and you get quality at home.
Want to know more about the chart plotter of your choice?
Have you seen a chart plotter in our assortment about which you would like more information? Then we will gladly help you. We are happy to tell our customers everything we know about our products, so that you can make informed choices about whether or not to buy a particular chart plotter. You can reach us by emailing info@sail360.nl or by calling 0031-252-544772. We hope that you can enjoy safe and secure navigation quickly with a chartplotter from our web shop.