Sailing Yacht under 30 ft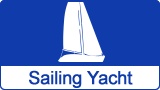 Navigation system for sailing yachts up to 9 meters

This compact navigation system brings all the relevant information and comfort on board smaller
sailing yachts. The digital transmitter in the ship's surface provides depth, speed through the water
(log) and water temperature. The analog wind direction and speed data of the transmitter
the masthead is digitized for the system. In addition to all information visible on the
chartplotter / multifunction display, data is also on two readers
to see in the tub. An iPad is used as a screen for the radar. In front of
communication and security should not lack a DSC radio and we also advise
to expand the system with an AIS transponder.