Sailing Yacht 50-80 ft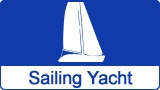 Navigation system for sailing yachts of 15 - 24 meters

This complete navigation system brings all relevant information and sailing comfort on board larger
sailing yachts. The digital transmitter in the ship's surface provides depth, speed through the water
(log) and water temperature. The analog wind direction and speed data of the transmitter
the masthead is digitized for the system. In addition to all information visible on one
15 inch chartplotter / multifunction display in the cockpit and a 12 inch
chartplotter / multifunction screen in the navigation corner and data is also on three
read instruments in the cockpit. The autopilot keeps the ship under all
circumstances on track. The radar unit has a range of 64 miles and gives one
razor sharp image of the surrounding shipping. An AIS transponder is provided for safety.
A DSC radio can not be missed.